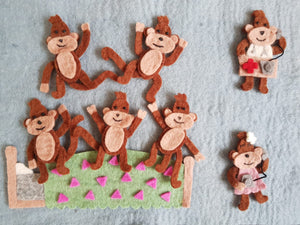 Five Little Monkeys Jumping On The Bed Play Set
Regular price
$35.00
$0.00
Combine fun with learning, with this adorable story kit. You can now act out your bub's favorite rhyme with this set. No matter how many times you tell the mischievous little monkeys not to jump on the bed, jump is what they do! Bring these little naughty fellas and the props for a show-and-tell, to a restaurant or on a long flight (we're sure that this play-set will be your long-flight favorite – it's also super light and so easy to carry!).
The set includes a felt play mat, five little monkeys, one mama monkey, one doctor monkey and one bed.
Approximate measurements:
Felt Play Mat: W35cm L50cm
Little Monkeys: W6cm L12cm
Mama Monkey: W6.5cm L12cm
Doctor Monkey: W7cm L12.5cm
Bed: W9cm L27cm
You can also buy the additional elements to do the five little monkeys swinging in a tree rhyme with your bubs. Please refer to our listing Five Little Monkeys Jumping On The Bed & Five Little Monkeys Swinging In A Tree.
---
More from this collection