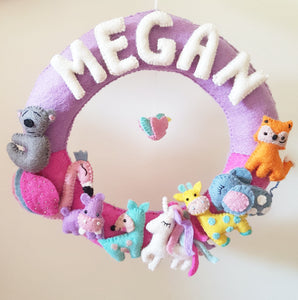 Personalized Name Wreath - Magical Kingdom
Regular price
$73.00
$0.00
Children have the special gift of escaping into a world created in their dreams.
In this magical place, they explore forests and meadows, and pick flowers and leaves with pretty fawns and whisk away any trouble with special powers of a fox's whisker! They hang out with cuddly koalas in eucalyptus trees and shower under the sprinkle from an elephant's trunk. They could have sassy hippos (yes, just like Gloria) for friends, and be as tall as giraffes and accompany them on all-day grazing parties! They glide across lakes with pink swans (well, it is a magical place where swans don't have to be white!) and fly across rainbows on unicorns!
Let us bring the magic of this fantasy land to your child's room with our whimsical name wreath! Personalize it with your little one's name and hang on a door or a wall, or you can lean it up against a wall on a mantel.
Additional info:
The wreath measures approximately 38-40cm in diameter and comes with a strong thread hook (so easy to hang them, yay!).
Mention the name you want on the wreath in the Comments section. Please note that if the name has more than 8-9 letters, we might have to remove one of the animals. We will write to you in such situations to check which animal(s) you'd like to not be friends with any longer.
We need 7 days to have the wreath made and delivered to you. Do let us know if you need it sooner, and we might just be able to do that (we do have some secret magic tricks up our sleeves!).
Tip: You can use 3M hooks to hang the wreath on the wall or the door. The wreaths weigh approximately 500g and transparent hooks work just fine (bonus – no more unsightly hooks).
---
More from this collection